Category: Gonzo Startup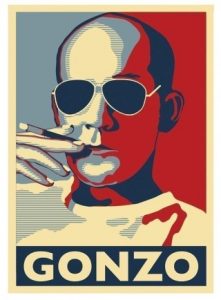 The Gonzo Startup Method is a reimagining of the start-up process which endeavours to empower individuals to successfully create start-up companies by emphasizing a creativity-first approach.
The entire start-up process is reformulated in terms of personal empowerment, a service-oriented mentality, and the unblocking of the creative spark inherent in all of us.
The premise of the Gonzo Method is that once those elements are in place, the rest follows naturally.
To get started, please explore some of the content below which documents how I bootstrapped my company. Hopefully this serves as good inspiration to begin to understand the core Gonzo Startup Philosophy that "the road to success is paved with failure."
Gonzo Startup Principle #1: Develop a service-oriented, give-back-first mentality right from the beginning.
When applied to the software startup, the following three principles should be adopted from day 1:
Contribute back to the open source community via GitHub
Become part of the Microsoft TEALS Program, and have programmers spent several hours a week teaching CS in the public schools
Develop a "Philantrophy Plan" right from the beginning, outlining your corporate charitable giving strategy
Everyone is invited to contribute content here, especially people who have successfully bootstrapped startups. To get involved, please send an email to support <at> kundalinisoftware.com
Gonzo Startup Principle #1: Develop a service-oriented, give-back-first mentality right from the beginning. When applied to the software startup, the following three principles should be adopted: Contribute back to the open source community via GitHub Become part of the Microsoft TEALS Program, and have programmers spent several hours a week teaching CS in the public schools Develop
The concept of Gonzo Journalism — where the author of a piece in essence becomes the story — was coined and exemplified by Hunter S. Thompson. For background information on Thompson and his revolutionary approach to journalism, read the following articles from Wikipedia. Readings https://en.wikipedia.org/wiki/Hunter_S._Thompson https://en.wikipedia.org/wiki/Gonzo_journalism